Your ALC & Leadership Team Will Be Hosting LISTING Training ALL… Month… Long!! Make sure you check out these great classes, taught by industry experts, brought to you LIVE in the Training Center or by Zoom!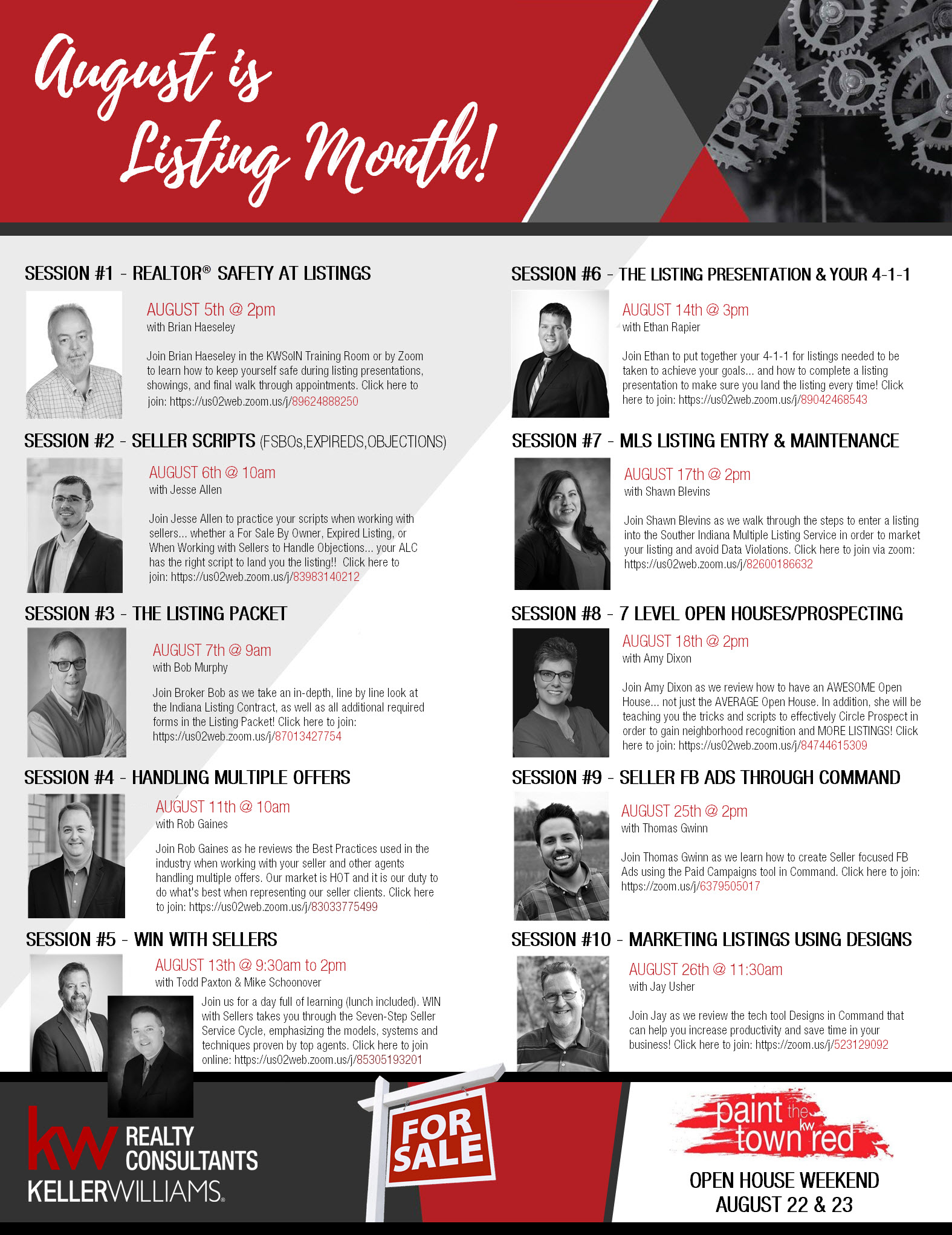 TOPICS INCLUDE:

REALTOR SAFETY AT LISTINGS AUGUST 5 @2pm with Brian Haeseley
Join Brian Haeseley in the KWSoIN Training Room or by Zoom to learn how to keep yourself safe during listing presentations, showings, and final walkthrough appointments. Click here to join: https://us02web.zoom.us/j/89624888250

SELLER SCRIPTS
AUGUST 6 @10am with Jesse Allen
(FSBOs, Expireds, & Handling Objections)
Join Jesse Allen to practice your scripts when working with sellers… whether a For Sale By Owner, Expired Listing, or When Working with Sellers to Handle Objections… your ALC has the right script to land you the listing!! Click here to join: https://us02web.zoom.us/j/83983140212

Resources for Scripts Class: BOLD Scripts and Seller Scripts

THE LISTING CONTRACT/PACKET
AUGUST 7 @9am with Bob Murphy
Join Broker Bob as we take an in-depth, line by line look at the Indiana Listing Contract, as well as all additional required forms in the Listing Packet! Click here to join: https://us02web.zoom.us/j/87013427754

HANDLING MULTIPLE OFFERS
AUGUST 11 @10am with Rob Gaines
Join Rob Gaines as he reviews the Best Practices used in the industry when working with your seller and other agents handling multiple offers. Our market is HOT and it is our duty to do what's best when representing our seller clients AND working ethically with other REALTORS!! Click here to join: https://us02web.zoom.us/j/83033775499

WIN WITH SELERS
AUGUST 13 @9:30am to 2pm
with Todd Paxton & Mike Schoonover
Join Todd Paxton for a day full of learning (lunch included). WIN with Sellers takes you through the Seven-Step Seller Service Cycle, emphasizing the models, systems and techniques proven by top agents. -Maximize the models that will propel your listing business forward and provide a sturdy foundation for growth. -Fill your pipeline with leads and appointments by learning prequalification, conversion, prelisting, and other techniques that create clients for life. –

Learn how to identify areas for growth of your seller business and how to improve constantly over time. -Get into the habit of tracking your numbers so you can monitor your business growth and set goals. -Learn the top seller objections, master scripts top agents use to handle them, and learn how to eliminate them altogether. -Create clients for life by providing an excellent customer experience, for your sellers and the buyers you meet while servicing your sellers. Click here to join online: https://us02web.zoom.us/j/85305193201

Click Here for Materials: WIN with Sellers Training Manual

THE LISTING PRESENTATION & YOUR 4-1-1
AUGUST 14 @3pm with Ethan Rapier
Join Ethan to put together your 4-1-1 for listings needed to be taken to achieve your goals… and how to complete a listing presentation to make sure you land the listing every time! Click here to join: https://us02web.zoom.us/j/89042468543

Click Here for Additional Resources: Listing Resources and Your 4-1-1

MLS LISTING ENTRY & MAINTENANCE
AUGUST 17 @2pm with Shawn Blevins
Join Shawn Blevins as we walk through the steps to enter a listing into the Southern Indiana Multiple Listing Service in order to market your listing and avoid Data Violations. Click here to join: https://us02web.zoom.us/j/82600186632

Click Here for Class Resources: MLS Policy & Guidelines and Residential Data Input Form

7 LEVEL OPEN HOUSES & CIRCLE PROSPECTING – AUGUST 18 @2pm with Amy Dixon
Join Amy Dixon as we review how to have an AWESOME Open House… not just the AVERAGE Open House. In addition, she will be teaching you the tricks and scripts to effectively Circle Prospect the listing in order to gain neighborhood recognition and MORE LISTINGS! Click here to join: https://us02web.zoom.us/j/84744615309

Click Here for Class Resources: Open House Resources
***MEASURING SQUARE FOOTAGE
AUGUST 20 @2pm with Special Guest Joan Riddle from Measuring Spaces… Our MLS has strict rules regarding entering square footage into a listing. The majority of agents just take it from the assessor's property report card… which is not really accurate 100% of the time. Join us as we learn about measuring techniques, some of the ANSI standards regarding above grade vs. below, and what can be counted as finished square footage. Click here to join: https://us02web.zoom.us/j/86411866680
Click here to review the SIRA MLS Handbook regarding Data Integrity Standards.
PAINT THE TOWN RED OPEN HOUSE WEEKEND – AUGUST 22-23

SELLER FB ADS THROUGH COMMAND
AUGUST 25 @2pm with Thomas GwinnJoin Thomas Gwinn as we learn how to create Seller focused FB Ads using the Paid Campaigns tool in Command. Click here to join: https://zoom.us/j/6379505017
MARKETING YOUR LISTINGS USING DESIGNS – AUGUST 26 @11:30am with Jay Usher
Join Jay as we review the tech tool Designs in Command that can help you increase productivity and save time in your business! Click here to join: https://zoom.us/j/523129092


WHO WANTS A CHANCE TO WIN A FREE MEGA CAMP TICKET $89 Value (1st Prize) AND 1/2 OFF KW FEES FOR THE MONTH OF SEPTEMBER $40 Value (2nd Prize)????

Terms: Earn 2 raffle tickets by attending each Listing Training in the month of August (must attend full class)

AND

Earn 1 raffle ticket for each Listing Contract signed in August!! 3 Mega Camp Tickets – 1 for Team, 1 for Group, 1 for Individual given to first place winners. 3 coupons for 1/2 of KW Fees – 1 for Team, 1 for Group, 1 for Individual given to second place winners. Listing Contracts must be uploaded and verified in Command and on MLS (both SIRA and GLAR listings are eligible).

AND

1 raffle ticket for every OPEN HOUSE held open the weekend of the 22-23 (FB live post on your personal page in order to win raffle ticket). Raffle tickets distributed by
Roger Kirkman

with proof of attendance or contract! All Raffle tickets to be verified by Leadership Team.