Our Career Night is a great way to learn more about what the life of a Real Estate agent looks like! As one of the top producing offices in the Southern Indiana area, our team knows what it takes for you to be successful in real estate! This event is for everyone who is wondering what it means to be in Real Estate and to find out whether it is a fit for them.
Join us via Zoom: https://us02web.zoom.us/j/89326591090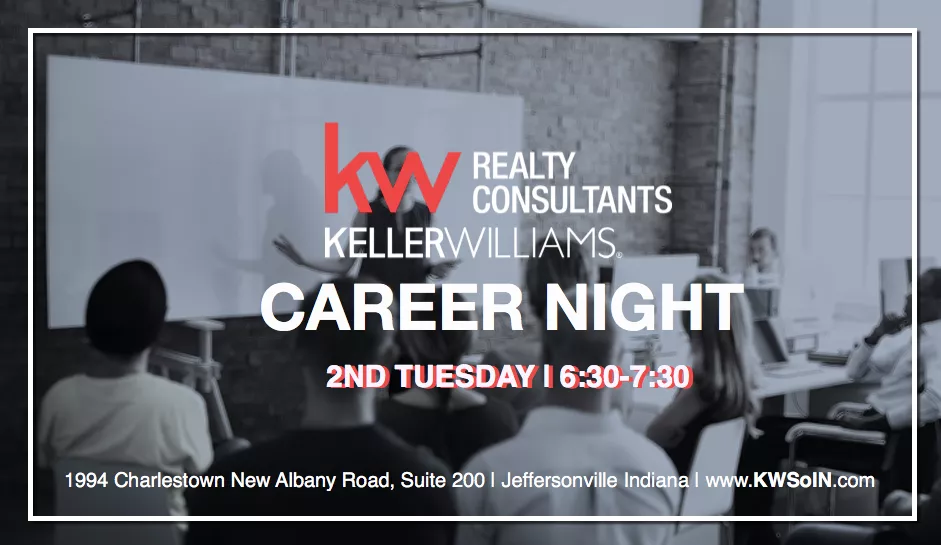 Topics that we discuss include:
–
How to get your real estate license


– Building a successful real estate career
– Our AMAZING Training & Coaching programs
– WHO we are
– WHAT we're about and
– WHERE we're going!
Mark your calendar… we host Career Nights on the second Tuesday of each month from 6:30-7:30…
Send your information to ShawnBlevins@KW.com to reserve your seat!!
What to bring:
Your contact information
All of your questions regarding real estate!
Join us and I will show you how to partner with the #1 Training Company in the real estate industry!! #KWSoIN #No1 #TheMoreYouLearn #TheMoreYouEarn



About Keller Williams: We are the #1 Largest Real Estate Company in North America with over 180,000 Associates! We hold the #1 spot in Real Trends 500 report for both transaction sides and units.

J.D. Power & Associates — Keller Williams Realty is Ranked "Highest in Customer Satisfaction among Home Buyer and Sellers" Keller Williams outpaces the industry in Technology, Wealth Building, Training, and Culture

Career Nights are presented by our Growth Committee or our KW Assistant Team Leader, Shawn Blevins 502-741-7714 or ShawnBlevins@KW.com